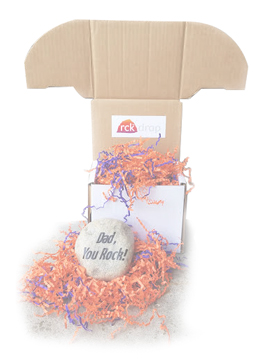 What does my rock come in?
The rock(s) of your choice comes in a neatly wrapped box with Decorative Paper Shreds surrounding the rock for a beautiful presentation when your recipient opens the box.
I want to return my purchase! What do I do?
If you are not 100% satisfied with your purchase from us you can exchange your item(s) within 27 days of purchase. (Returns must be in new condition and in the original packaging.)
To return the merchandise send an email to help@rckdrop.com including your order  number.  You will receive a return confirmation number with instructions.
Do you offer back orders?
No, we do not do back orders. Each rock color,print size and shape combination is unique.
The item I want is out of stock. What do I do now?
Items are available on a 'first come, first served' basis, so please make sure that you place your order quickly.
What forms of payment do you accept?
Currently we accept credit cards containing a logo from either Visa, Mastercard, Discover, or American Express.
How can I get assistance if I need it?
Easy! Email help@rckdrop.com 24 hours a day – 365 days a year.  All emails are responded to within 24 hours.
How do I change or cancel my order?
Please contact us at help@rckdrop.com immediately if you need to change or cancel your order. Please be advised that orders are shipped within 24 hours of order placement, and it may not always be possible to cancel.
What is the status of my order?
After placing an order, you will get an email summary of the order placed.  Once the item has been shipped you will receive an additional email with the tracking number.